Recently, Professor Ding Zhaojun, School of Life Sciences, Shandong University, Professor Zhang Xian, Shandong Agricultural University, Professor Ive De Smet, Ghent University, Belgium, and Dr. Yu Qianqian, Liaocheng University, jointly completed the research results with the title of "Non-canonical AUX/IAA protein IAA33 competes with canonical AUX/IAA repressor IAA5 to negatively regulate auxin signaling" published in The EMBO Journal. Professor Ding Zhaojun is the corresponding author of this paper. Dr. Lv Bingsheng, a postdoctoral of Shandong University, Dr. Yu Qianqian and Liu Jiajia are the co-first authors of this paper.
The phytohormone auxin controls plant growth and development via TIR1-dependent protein degradation of canonical AUX/IAA proteins, which normally repress the activity of auxin response transcription factors (ARFs). IAA33 is a non-canonical AUX/IAA protein lacking a TIR1-binding domain, and its role in auxin signaling and plant development is not well understood. In this research, we show that IAA33 maintains root distal stem cell identity and negatively regulates auxin signaling by interacting with ARF10 and ARF16. IAA33 competes with the canonical AUX/IAA repressor IAA5 for binding to ARF10/16 to protect them from IAA5-mediated inhibition. In contrast to auxin-dependent degradation of canonical AUX/IAA proteins, auxin stabilizes IAA33 protein via MITOGEN-ACTIVATED PROTEIN KINASE 14 (MPK14) and does not affect IAA33 gene expression. Taken together, this study provides insight into the molecular functions of non-canonical AUX/IAA proteins in auxin signaling transduction.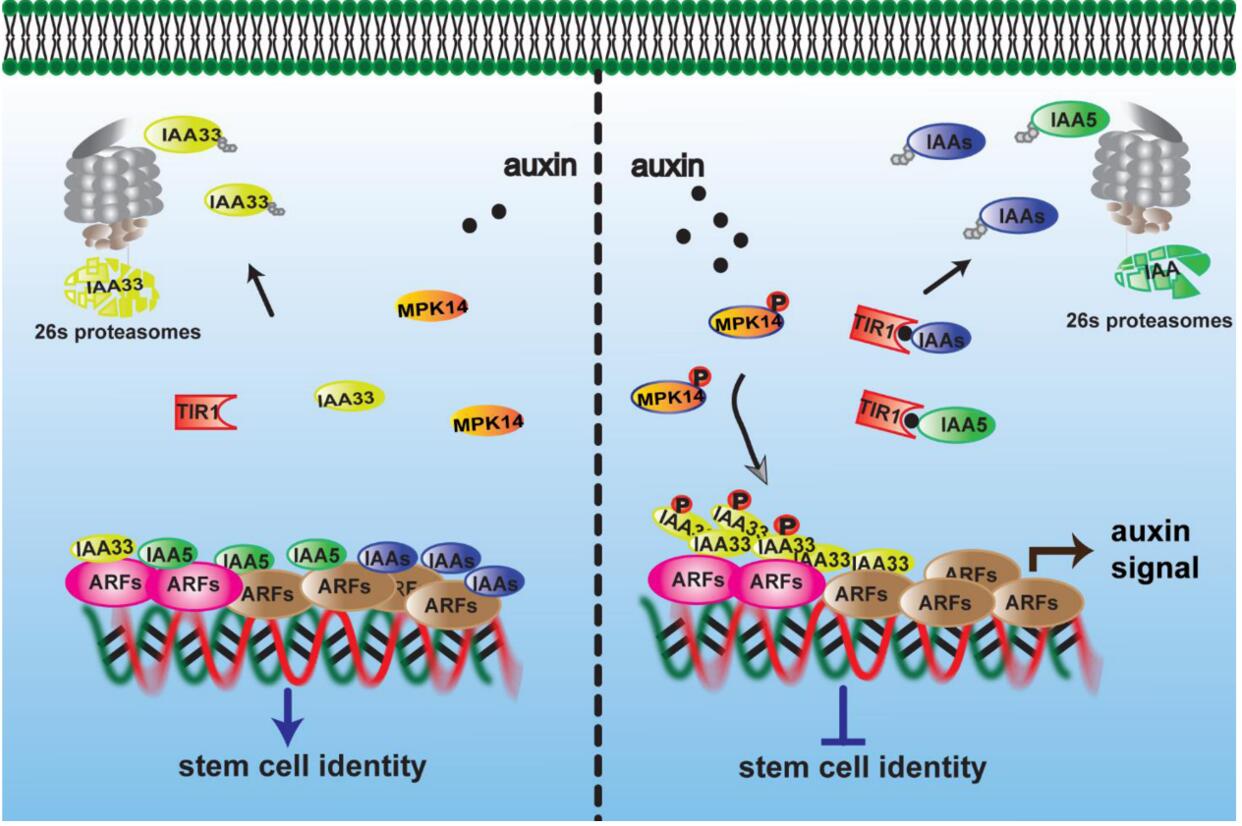 The research was supported by NSFC, National Key Basic Research and Development Program (973 Program), Major Basic Research Projects of Shandong Province and Special Support Projects of China Postdoctoral Science Foundation.
Professor Ding Zhaojun's research group mainly focus on how plant hormones regulate the plasticity growth and development of roots. In the past five years, they have published nearly 30 papers in The Plant Cell, EMBO reports, Cell Reports, Molecular Plant, PLoS Genetics, Trends In Biotechnology, Trends In Plant Science, Plant Physiology, Plant Journal and other international mainstream journals.
Related reading:
https://www.embopress.org/doi/10.15252/embj.2019101515
Written by: Lv Bingsheng
Edited by:Che Huiqing