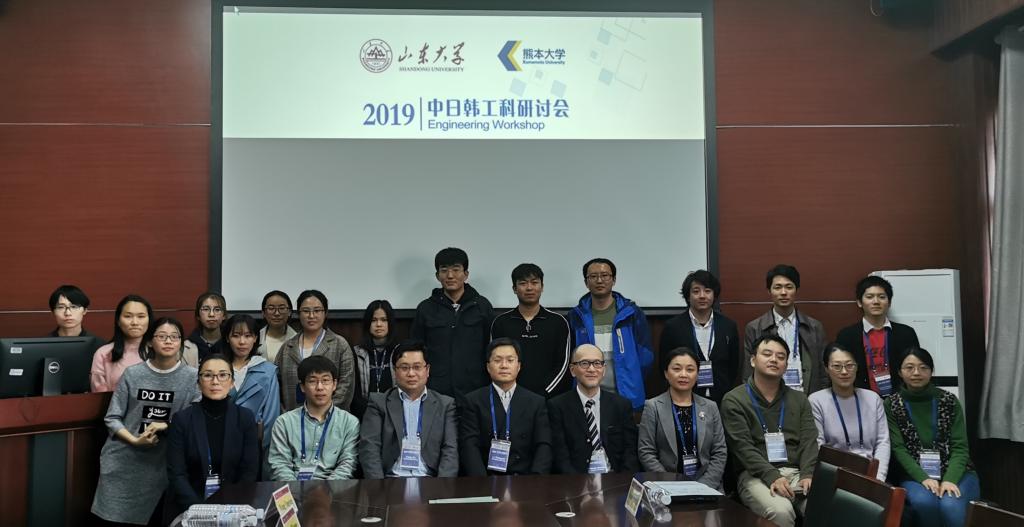 The School of Life Science held the Biological Forum of 2019 the trilateral (China-Korea-Japan) research association of engineering workshop on November 16th.
During the forum, five presentations were given including the Development of Catalytic Materialsfor High-Temperature Applications and Corrosive Environment (Prof. Masato Machida), The Role of Histone Acetyltransferase MOF in Tumorigenesis and Inflammatory Disease (Prof.Li Xiangzhi), Development of a Next-Generation Nucleic Acid Medicine (Assist. Prof. Yousuke Katsuda),Metabolic Engineering of the D-erythrose 4-phosphate Biosynthetic Pathway for Tyrosol Production in Saccharomyces Cerevisiae (Prof.Fang Xu) and HIC1 Deletion Promotes Breast Cancer Progression by Activating Tumor Cell/Fibroblast Crosstalk (Ms. Wang Yingying).
The forum strengthened the communication between Shandong University and Kumamoto University.
The forum was chaired by the vice-department head Prof. Guo Weihua. Prof. Masato Machida, associate prof. Makiko Kobayashi and assistant prof. Yousuke Katsuda from Kumamoto University in Japan participated in the forum. Prof. Li Zicong, Prof. Li Xiangzhi, Prof. Fang Xu, assistant prof. Wang Hui and assistant prof. Wang Yingying were presented in the forum.