An international joint research institute on artificial intelligence, jointly sponsored by Shandong Universityand Nanyang Technological University (NTU Singapore), was inaugurated on July 5 in Jinan, capital of East China's Shandong province.
The institute is designed to pool famous universities and scholars from the United States, Canada, Australia, France and other countries to build a platform for scientific research, talent training, as well as achievements transformation.
According to SDU, the institute is an independent scientific research institution directly under the university, which has planned key research directives such as AI basic theory, smart government administration, block chain intelligence, as well as real-life AI solutions.
Fan Liming, president of SDU, said that internationalization is one of the outstanding features of this research institute. NTU will contribute high-end discipline resources and high-quality teaching resources, while SDU will provide a student pool.
Relying on Shandong's vast market and comprehensive industrial system, the institute undertakes the transformation of technological achievements such as smart service and smart manufacturing, Fan added.
NTU boasts advanced development of AI technology research and applications. It also has strong strengths in scientific research and teaching, gathering a large number of young talents.
Fan said that since 2004, the two universities have been actively interacting with each other in computer science, software engineering, and other disciplines. In 2005, the two sides jointly established a Confucius Institute in Singapore to teach Chinese language and promote the spread of Chinese culture in Southeast Asia.
Lam Khin Yong, vice president of NTU, said that the research institute will conduct interdisciplinary research in health, environment, energy, and other important social fields, making full use of the resources of universities, enterprises, and public institutions, as well as building itself into a scientific research and discipline support platform and talent training base.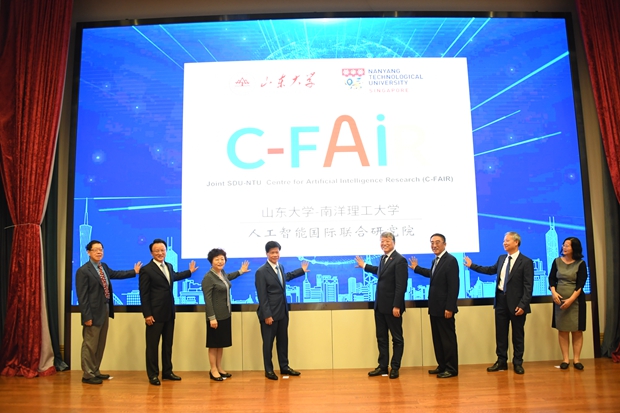 The Joint SDU-NTU Center for Artificial Intelligence Research is inaugurated on July 5 in Jinan, capital of East China's Shandong province. [Photo provided to chinadaily.com.cn]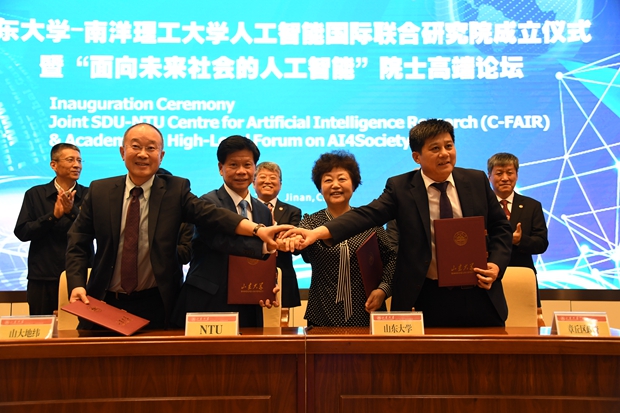 Representatives from Shandong University, Nanyang Technological University, the local district government, and a Shandong-based enterprise sign cooperative agreements. [Photo provided to chinadaily.com.cn]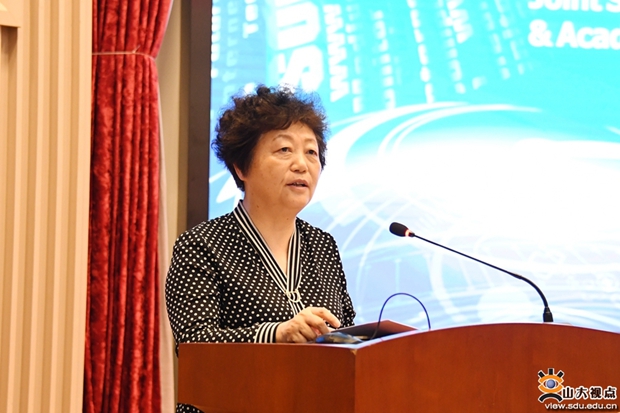 Fan Liming, president of Shandong University, delivers a speech at the inauguration ceremony on July 5 in Jinan, Shandong province. [Photo/view.sdu.edu.cn]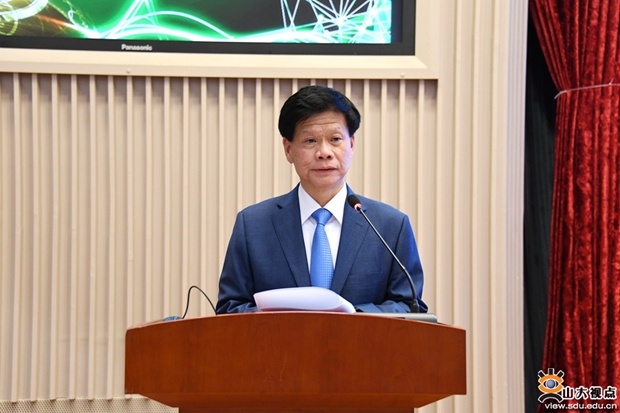 Lam Khin Yong, vice president of Nanyang Technological University, delivers a speech at the inauguration ceremony on July 5 in Jinan, Shandong province. [Photo/view.sdu.edu.cn]
Source: China daily
Edited by: Che Huiqing