On November 26, Frans Snijders, Director of the International Office, and Peter Peverelli, Director of the China Research Centre of Vrije University Amsterdam visited Shandong University. Han Shenghao, Vice President of SDU, met with the delegation.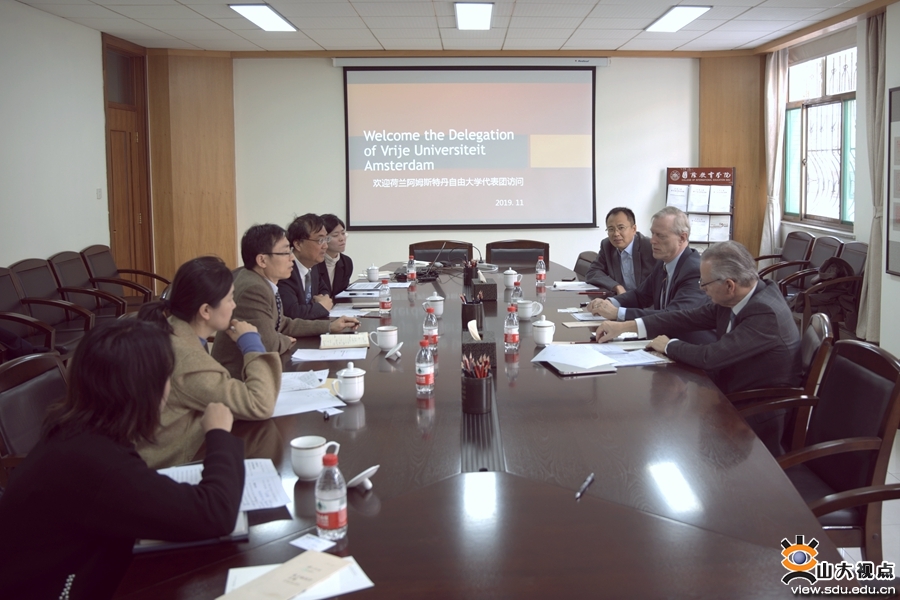 During the meeting, Han introduced the history, discipline layout, and development strategies of SDU. He said that the two universities shared common advantages and research interests in many disciplines. He hoped that the two universities could deepen understanding and explore cooperation opportunities in areas such as talent cultivation, scientific research, and faculty exchanges. Frans Snijders introduced the characteristics of Vrije University Amsterdam and its cooperation with some Chinese universities, and hoped that a sustainable and multilevel partnership with SDU could be established to contribute to the deepening of China-Netherlands exchanges.
After the meeting, the delegation visited the Office of Confucius Institute, the School of Management, and the School of Economics of SDU. The two sides discussed the cooperation in terms of Chinese language and cultural communication, student joint cultivation, scientific research,etc.
During the visit, the delegation visited Shandong University Museum and Center for Research and Experience of Traditional Chinese Culture. Relevant personnel from the Department of International Affairs, the Office of Confucius Institute, the School of Economics, the School of Management, and the School of Journalism and Communication attended related activities.
Vrije University Amsterdam founded in 1880, is a comprehensive research university in Amsterdam, one of the financial centers of Europe. It ranked the 82nd in the 2019 US News World University Rankings.
Translated by: Su Chang
Edited by: Wang Tongtong,Che Huiqing