Recently, Prof. Fang Hao's group from School of Pharmaceutical Science, Shandong University, reported a new series of histone deacetylase and proteasome dual inhibitors to overcome the drug resistance of Bortezomib. Their research article entitled "Discovery of Peptide Boronate Derivatives as Histone Deacetylase and Proteasome Dual Inhibitors for Overcoming Bortezomib Resistance of Multiple Myeloma" has been published in Journal of Medicinal Chemistry (10.1021/acs.jmedchem.9b02161), which is the top journal in the discipline of medicinal chemistry.
While proteasome inhibitors such as bortezomib showed satisfactory clinical benefits in the initial treatment of multiple myeloma (MM), drug resistance and relapse are unavoidable. Recent studies suggested inhibition of histone deacetylases (HDACs) restored sensitivity of bortezomib-resistant MM. Professor Fang's group applied the principles of drug design to design a series of new molecular entity structures that simultaneously blocked histone deacetylation modification and bortezomib's original target to address the resistance of bortezomib. The most potent inhibitors, ZY-2, not only exhibited good antiproliferative activities on the MM cell lines, but also showed more potent antiproliferative activities against the bortezomib-resistant MM cell line compared with bortezomib and even better than the combination of the traditional HDAC inhibitor and bortezomib. The above research results not only confirmed the rationality and feasibility of developing HDAC/proteasome dual inhibitors, but also laid the foundation for the subsequent development of new anti-multiple myeloma drug candidates. The above research have been supported by National Natural Science Foundation of China, the Natural Science Foundation of Shandong Province.
In recent years, Prof. Fang Hao' group have been working on target-based antitumor drugs discovering and chemical biology of cancer, and have obtained several potent lead compounds for promising cancer treatments. The series of progress has been published on Journal of Medicinal Chemistry, European Journal of Medicinal Chemistry, Journal of Chemical Information and Modeling, Bioorganic Chemistry, ACS Medicinal Chemistry Letter, etc.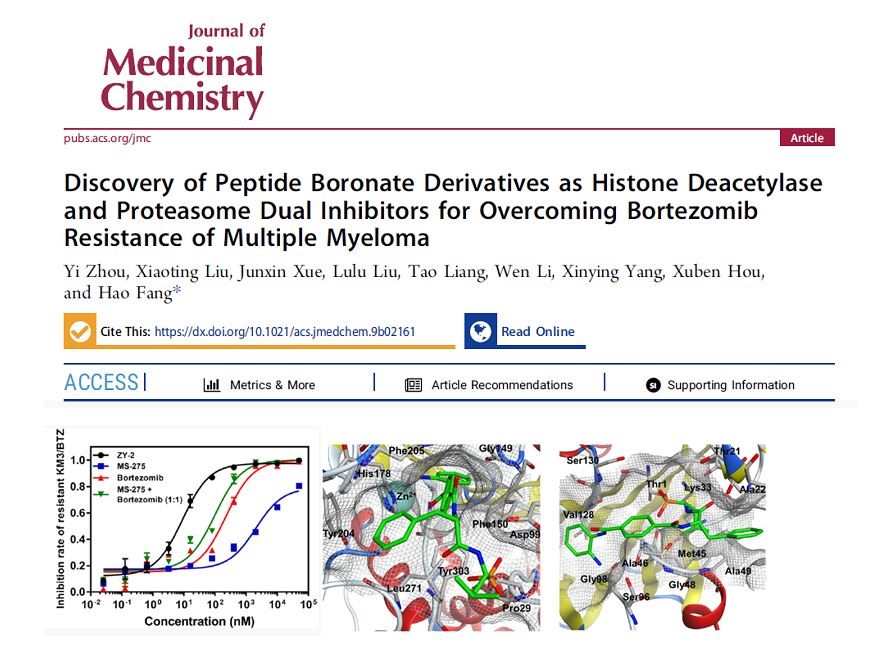 Written by:Fang Hao
Edited by: Che Huiqing