Recently, Prof. Bai Mingyi's group, from the School of Life Science, made new progress in phytohormone brassinosteroids regulation of seedling greening. Related results have been published on the international top journal The Plant Cell entitled "The miR396-GRFs Module Mediates the Prevention of Photo-oxidative Damage by Brassinosteroids during Seedling De-Etiolation in Arabidopsis" (IF=9.2). The first authors are Ph.D. candidate Wang Lingyan from the School of Life Science andpost doctor Tian Yanchen from Qingdao Institute of BioEnergy and Bioprocess Technology. Prof. Bai Mingyi and associate professor Fan Min are the corresponding authors.

Seedling greening is essential for their survival as they emerge through the soil and into the light.Brassinosteroids (BRs) are a group of plant steroid phytohormones that regulate a large fraction of plant growth and developmental processes and have been reported to play key roles in seedling skotomorphogenesis. However, whether BRs regulate the developmental switch from skotomorphogenesis to photomorphogenesis remains unclear.
Genetic analysis indicated brassinosteroids-deficientdet2-1(de-etiolated2) mutant accumulated excess protochlorophyllide, resulting in photo-oxidative damage upon exposure to light. Conversely, the gain-of-function mutant bzr1-1D (brassinazole-resistant 1-1D) suppressed the protochlorophyllide accumulation of det2-1, thereby promoting greening of etiolated seedlings. Furthermore, PIFs are required for BZR1-mediated seedling greening. BZR1 and PIFs cooperatively induce the expression of the transcription factors GRF7 and GRF8. Suppression of GRFs function by overexpressing microRNA396a caused an accumulation of photochlorophyllide in the dark and severe photo-bleaching upon light exposure. Finally,BZR1, PIF4 and GRF7 interact with each other to precisely regulate the expression of chlorophyll biosynthetic genes and promote seedling greening.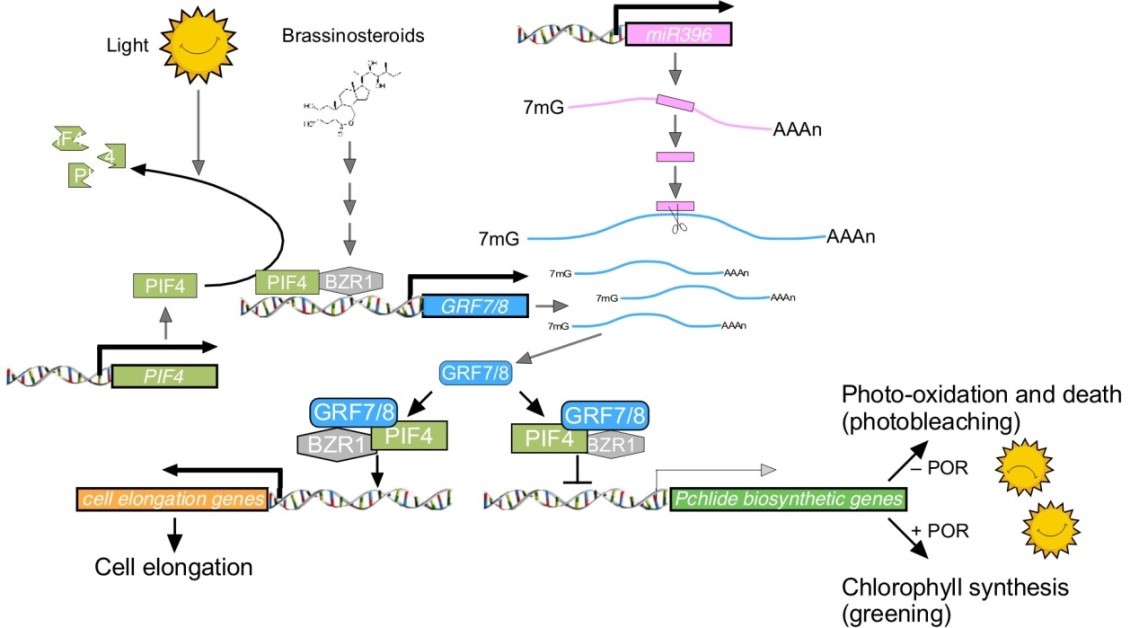 A Working Model for the Roles of BZR1, PIF4 and GRF7 during Greening of Etiolated Seedlings
This work was supported by grants from the National Natural Science Foundation of China, the Natural Science Foundation of Shandong Province and China Postdoctoral Project.
The links of papers:http://www.plantcell.org/content/early/2020/06/02/tpc.20.00057
Written by: Bai Mingyi
Edited by: Xie Tingting